Before you set out on your next hiking trip, make sure you have everything you need to look and feel your best. This includes a water supply, a nice hat, sunglasses, sweat-wicking clothing, and a good pair of hiking boots.
We've compiled a list of the best hiking boots for women, so whether you're out for an afternoon stroll or a multi-day adventure, you'll be the most comfortable person on the trails—without sacrificing style.
Top 10 best women's hiking boots in UK 2021
1. Vivobarefoot Magna Trail
The Vivobarefoot Magna Trail is a versatile hiking boot and the lightest boot on our list, designed to tackle multi-terrain while yet blending in while walking in the city. The gripping sole has shallow lugs that are suitable for rough, damp, or dry situations. For cold-weather hiking, there's also a replaceable thermal insole.
Although the sock-fit form makes these boots slightly more difficult to put on than standard hiking boots, the snug fit keeps grit out and provides a secure feel on rough terrain. In addition to being vegan, the Magna Trail is made with a recycled microfibre heel and 50 percent recycled PET in the laces and webbing.
2. Lowa Schuhe Renegade GTX Mid
The Lowa Renegade GTX Mid is a popular boot for hikers who frequently traverse difficult terrain. It provides excellent durability and foot protection. The Renegades are not cheap, but they are definitely worth the money if you want good ankle support and maximum stability.
We generally find that boots with this kind of support seem a little restricting at first, but after a brief break-in period, these boots are really comfortable. The Renegades are extraordinarily high-quality and an excellent alternative for anyone looking for a long-lasting boot with a solid ankle structure.
3. Hi-Tec Women's Bandera II
These mid-rise waterproof hiking boots have the same look as the more expensive varieties, but they are a fraction of the price. These boots, which have suede accents and mesh fabric for increased ventilation, have a cushioned collar for added comfort while hiking through the woods and mountains. When it comes to being on your feet all day, reviewers remark about how durable and supportive they are. We also appreciate that these are available in a variety of sizes.
4. Regatta Lady Clydebank
Despite the fact that Lady Clydebank is not the most visually appealing boot, it meets all of our technical requirements – the boot is waterproofed with Isotex, has a well-protected toe box and laces up easily, and has a comfortable wide tongue to prevent anything from rubbing against your ankles.
Using a creative combination of warm suede and breathable mesh material, the outer boot provides both warmth and breathability. It is recommended that you keep the shoes on defined paths rather than scrambling routes because the soles are not the grippiest we have tried.
5. Merrell Women's Siren 3 Mid Gore-tex
We like how versatile and lightweight these Merrell boots are. They're incredibly waterproof thanks to the GORE-TEX material, but also extremely well ventilated, making them suitable for both rain and warm weather.
The Siren is Merrell's latest women's model, which is also available as a shoe. Its Vibram outsole is incredibly grippy, especially in wet or slippery situations, with deep lugs that keep you in place even while trekking through dense, muddy terrain. The heel features extra padding and is designed to mold to the curve of your heel over time.
6. La Sportiva Ultra Raptor GTX
The La Sportiva Ultra Raptor GTX boots are ideal for more challenging hiking and backpacking journeys that require sticky traction and robust foot protection. Despite their toughness and durability, the Nucleos are light and comfortable enough for all-day wear, and their elegant appearance lends themselves nicely to post-hike drinks.
Because the upper and soles are somewhat stiff, you may want to consider adding aftermarket insoles if you prefer a nice, cushioned feel underfoot. However, we found them to be extremely comfortable and highly suggest them to anyone looking for a boot with a good balance of sturdy support and low weight.
7.
Saucony Peregrine 11
The Peregrine 11 trail runner does everything properly without any gaping shortfalls. The new top design is quite unique and will get some attention while running on the trail. The most notable change to the Peregrine 11 is a redesigned upper design that is more sturdy and protective than the previous generation. It's a winning finishing touch that completes this shoe and making it one of the most versatile and practical sneakers to wear when running on different terrains. Let's face it: it can get expensive if you use different trainers for each type of terrain you run on.
8. Keen Targhee III Mid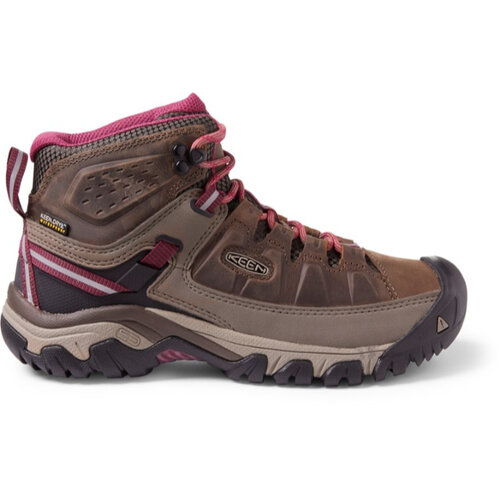 If you want a boot with a little more wiggle space in the toe, the Keen Targhee III Mid could be the perfect fit. The Targhees' lacing system features a unique band that attaches behind the heel to create a secure, locked-in feeling that aids in stability on rough terrain.
Those who prefer a lot of ankle support may likely find them less protective than the other boots on this list, but we found them to provide a decent blend of support and flexibility. The Targhees are ideal for hikers searching for a wide-fitting boot at an affordable price.
9. Inov8 Roclite 345 Gore-TEX
One of the standout features of these boots is the sole, which is made using graphene, the world's strongest material. As a result, the boot provides outstanding grip while also being extremely comfortable and resilient, allowing it to last mile after mile.
The claw-shaped cleats provide excellent traction on even the most slippery terrain, and the midsole is extremely cushioned, providing 10% more shock absorption than ordinary midsoles. To top it all off, the boots are waterproofed with GORE-TEX to keep your feet dry even in the wettest of winters.
10. Ahnu Women's Sugarpine Air Mesh
The Ahnu Sugarpine boots are one of our picks for the best lightweight hiking footwear for women. They are sleek and attractive, and they function well as regular hiking boots. They are also ideal for those looking for boots that promote natural biomechanical mobility through the foot.
Their Numentum Technology is designed to keep the foot in a neutral position, and while the removable EVA footbed provides adequate heel and arch support for average feet, people with high volume feet may require something more supportive, such as the Keen Targhee II. While the Vibram soles are adequate for most mild hiking situations, their lugs are not as harsh as other alternatives, making these an excellent choice for long day walks.
What determines a good pair of hiking shoes?
COMFORT AND FIT – Fit is different for each individual, so what works for one person may not be the ideal option for the other. The most comfortable boots, in general, allow your toes to stretch, have cushioning that supports your foot form, and have some flex in the upper so it moves with your foot.
ANKLE SUPPORT – Lots of people hike in boots because of the ankle support they provide. If you're looking for maximum ankle support, you should go with a boot that sits higher up on the ankle and make sure to tie the laces tightly.
DURABILITY & MATERIALS – Hiking boots can be a big investment, so finding a durable pair will help you get the most bang for your buck. Traditional leather boots are almost always going to be more durable than the lightweight footwear. But if keeping weight low is important to you, look for a pair of boots with reinforced mesh construction to get the best balance of weight and durability.
WATERPROOF VS NON-WATERPROOF – If you regularly hike in rainy or muddy terrain, waterproof footwear can be a lifesaver. We like wearing them on rainy day treks in the spring and fall. Waterproof boots, on the other hand, aren't very breathable on hot days, and they can be heavy and sluggish to dry when wet. Non-waterproof boots are lighter and more breathable, and while they can get wet, they dry relatively quickly.
Conclusion
Walking boots are certainly made for walking and to make sure that's just what they'll do, the feet within them need to be happy. So, whether you're out for a half-hour walk with the dogs every day or preparing to tackle the next big peak on your list, make sure you treat your feet right.
We hope you'll find what you're looking for after reading our article.